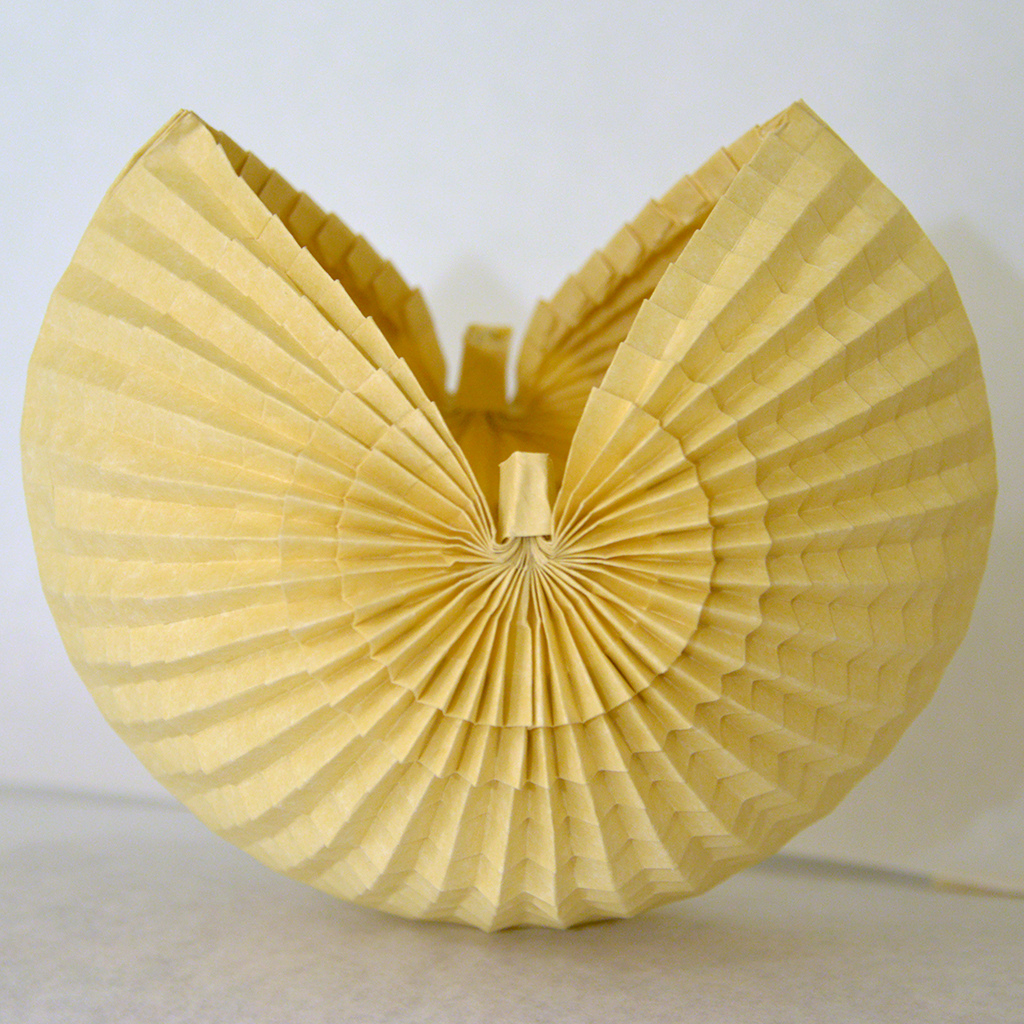 Elizabeth LaCour.
Lincoln Pod.
Parchtone Paper. 8" tall.
Beth LaCour earned her MFA from Mississippi University for Women in 1980 and a Post Degree Diploma in Non-Toxic Printmaking from the Canadian School of Non-Toxic Printmaking in 1999. While researching non-toxic printmaking techniques, she worked extensively with Keith Howard, originator of the non-toxic etching processes, and George Roberts, the originator of polyester plate lithography. She began her teaching career at at Randolph-Macon Woman's College in Virginia before she moved westward to become a faculty member and two-dimensional fine arts coordinator at Yavapai College in Arizona. She has taught courses in a variety of printmaking techniques as well as colored pencil, papermaking and digital processes. Her work is included in numerous personal and museum collections throughout the country. In 1999 she was a member of the panel discussion presentation "Printmaker's Body/Printmaker's Chemistry", and delivered a demonstration/ presentation "Non-Topic Intaglio Using ImagOn", both at the 27th Conference of the Southern Graphics Council annual meeting. She is currently a freelance artist /educator working out of her studio in Flagstaff, Arizona.

Beth's artwork is derived from the interplay of natural light reflected throughout architectural spaces with objects constructed from local naturally occurring plant and earth materials. She has a strong background in traditional painting, printmaking and sculpture but her current interests are in more transitory objects made of paper that is handmade, printed using non-toxic intaglio methods and are folded and formed often with architectural motifs or inspiration that play well within natural and architectural spaces. At the core, her sensibilities are born from the complex simplicity of nature using materials and processes that are earth and human friendly embodying a spirit of sustainability by reducing the impact of hazardous materials on our air quality, groundwater and health. Beth's folded paper vessels are geometric evolving into curved natural forms designed to catch light and the eye drawing one into exploring shape and light from a new perspective.

Current explorations have centered on mathematical planning for both expansive creative processes and repeatability of form design. These forms continue to evolve toward designs for lighting fixtures, shelters, and organic vessels using additional decoration from vegetable ink, plant fibers, seeds and pits. While at Taliesin, she will work on combining previous work in paper, papyrus, printmaking, and sculpture to explore traditional forms rendered by a folding process that we see in nature at the human scale and the micro scale such as seen in the folding of proteins of which all life is formed.